News
Main Content
Student Spotlight: Amber George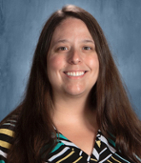 School of Education Alumnus named Teacher of the Year
Amber George (WED '07; EAHE '21) is the Southeast Teacher of the Year. In addition to this regional honor, Amber is also one of 10 finalists for the statewide Illinois Teacher of the Year.
Join us in celebrating Amber's success in and outside of the classroom. Additionally, Amber offers some insights to others looking to become educators.
1. Degrees obtained from SIU and years you graduated:
I earned my B.S. in Workforce Education and Development with a concentration in Family and Consumer Sciences Secondary Education in May of 2007 and my M.S. in Educational Administration in May of 2021.
2. Current position:
I am currently in my 13th year of teaching Child Care at Herrin High School and in my 15th year of teaching overall. After obtaining my National Board Certification in December of 2020, I became the ROE 21 Cohort Facilitator for teachers seeking National Board Certification. Additionally, I am a building mentor for new teachers at Herrin High School through the IEA/ISBE Building Mentor program.
3. Identify a couple of ways that you continue to use your SIU preparation in your current role:
Southern Illinois University-Carbondale fully prepared me to enter the classroom directly out of college. I use both knowledge learned from the education courses and insight gained through field experiences daily in my classroom. Both provided me with a realistic look of what it takes to be a successful educator. The wisdom imparted from both my professors and cooperating teachers continues to guide me as I educate the leaders of tomorrow!
4. Things you believe that prospective teachers know when choosing the professions:
Teaching is the best profession in the world! The number of positives far outweigh the negatives. My best advice when choosing to become an educator is to discover your "why." Find the motivation behind your "why" and never lose sight of it. As we have seen throughout the COVID-19 pandemic, education is ever-changing and new obstacles may present themselves. Knowing your "why" will help you stay focused on your goals, thus allowing you to continue growing in your craft and enhancing the quality of education your students receive.
5. Suggestions for students/teacher candidates while pursuing their degrees and preparing to enter the classroom:
The biggest piece of advice that I can give to those who are currently pursuing their degrees is to ask all of the questions you can and to soak up all of the knowledge shared with you. Your professors and cooperating teachers are full of wisdom from their own experiences in the world of education. They can provide you with priceless insights into many aspects of the world of education. Another piece of advice that was very helpful to me is to create a network of fellow students and future educators. You all will serve as a great support system for one another when navigating your way through your first years of teaching.
6. Add any other tips you feel they might need to hear:
I highly recommend taking full advantage of the Saluki experience while attending SIUC. Go to the events, join the clubs, and make the memories. You will look back on these years with a smile. The fond memories will stick with you forever! "Once a Saluki, Always a Saluki."
---
SIUC teacher candidates continue to demonstrate excellence as they apply their content and pedagogical skills in the classroom, showing flexibility in various learning plans during COVID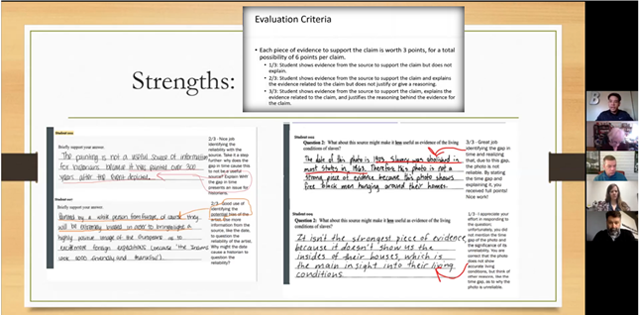 Malcolm Berry, Secondary History Education, defends his readiness to student teach to Mrs. Vicky Turl, Clinical Supervisor; and program faculty, Dr. Joseph Sramek, Dr. Brianna Sanchez-Janssen, and Dr. Grant Miller. Malcolm demonstrates his ability to develop quality rubrics aligned to content-specific objectives that require higher order thinking skills to provide students clear expectations prior to the assessment. He shows the specific feedback given to each student using technology in a virtual learning environment.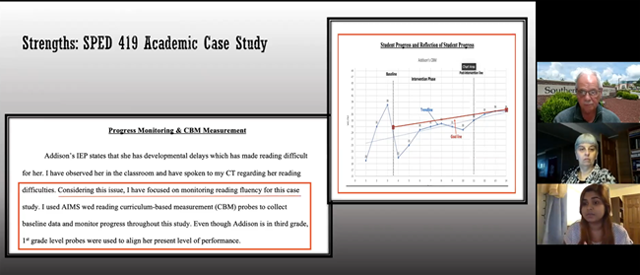 Esther Roy, Special Education, describes to her Clinical Supervisor, Mr. Gerald Speith, and program faculty, Dr. Deborah Bruns, how she uses curriculum-based measurement to progress monitor students. Esther's explains how the ability to frequently assess and graph student progress in assessment software allows her to set challenging but achievable goals, develop detailed intervention strategies tailored to individual student needs, and provide visual feedback for the problem-solving team, students, and families.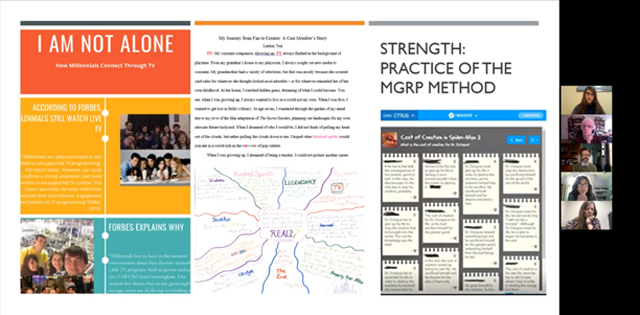 Lindsay Teal, Secondary English Language Arts, discusses the importance of selecting research-based teaching strategies specific to her discipline to engage her students in writing. In defending her readiness to student teach to her Clinical Supervisor, Mrs. Vicky Turl; and program faculty, Dr. Ryan Netzley, Dr. Anne Chandler, and Dr. Brianna Janssen-Sanchez, Lindsey demonstrates her ability to personalize learning by relating to students' personal, community, and cultural assets, and track student participation usingtechnologyplatforms, such as Nearpod.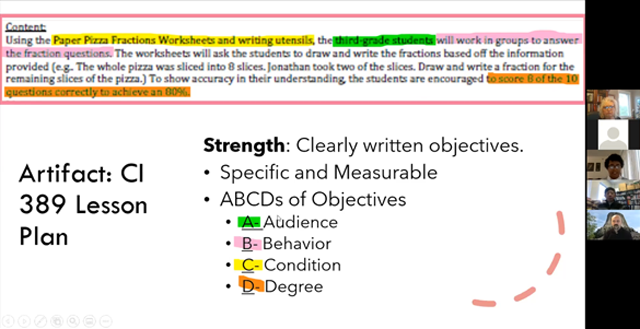 BriAunna Lyons, Elementary Education, explains to her Clinical Supervisor, Dr. Jackie Cox; and program faculty, Dr. Cheng-Lao Yin and Dr. Harvey Henson, how content-area objectives that are clear, specific, and measurable, are key to the planning, implementation, and assessment stages of the teaching and learning cycle. In her explanation, BriAunna demonstrates the evidence-based teacher mediated strategies of color-coding and mnemonics.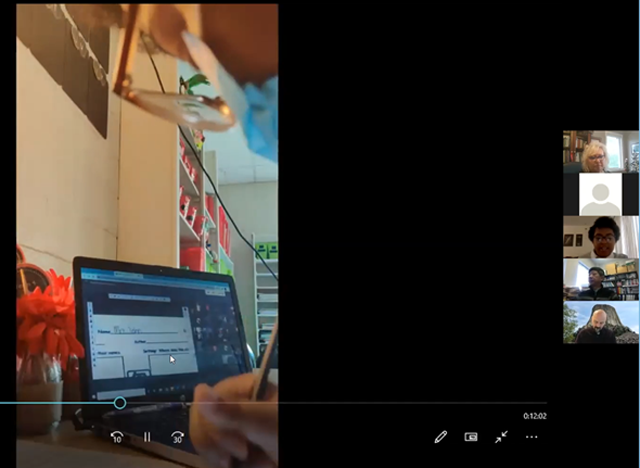 BriAunna Lyons, Elementary Education, shows a video clip to her Clinical Supervisor, Dr. Jackie Cox; and program faculty, Dr. Cheng-Lao Yin and Dr. Harvey Henson, of her using Google Meets to teach a lesson. She used her tablet and pen to write on the graphic organizer and her laptop to monitor students. She is demonstrating her ability to use a graphic organizer to organize and clarify complex material in a virtual classroom.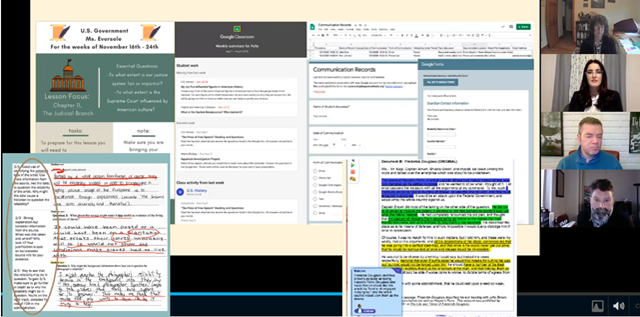 Sandra Eversole, Secondary History Education, demonstrated her proficiency with integrating technology while showcasing her abilities to her Clinical Supervisor, Mrs. Julie Peterson; and program faculty, Dr. Joseph Sramek and Dr. Grant Miller. Some of these examples include her use of Google Forms to communicate regularly with students and families and to provide frequent and specific feedback to students on key content skills. In addition, she demonstrated her use of Book Builder to differentiate instruction through Universal Design for Learning (UDL) principles.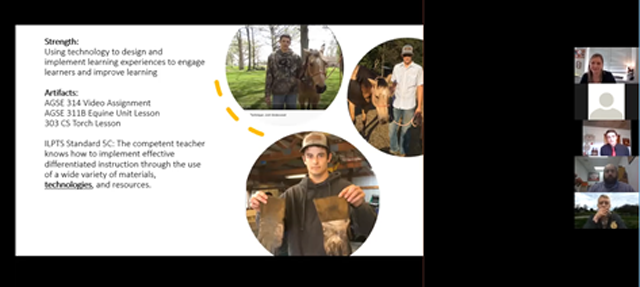 Joshua Underwood, Agriculture Education, showcases his strength in the use of technology to teach his students at Crab Orchard high School during his Gateway Defense with his Clinical Supervisor, Mrs. Amanda Pangrazio; Cooperating teacher, Mr. Chris Evans; and Program Coordinator, Dr. Steven Still. Joshua recorded videos in his home shop to model skills and safety procedure "do's and don'ts" during equine and torch units. The photos are screenshots from his videos.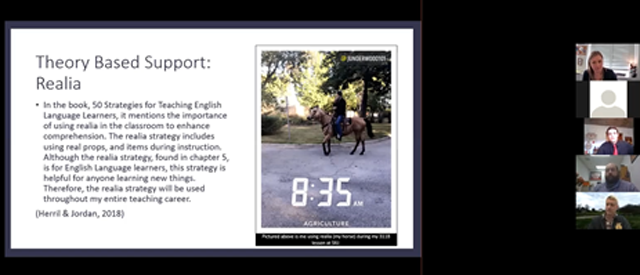 Joshua Underwood, Agriculture Education, discusses the importance of selecting research-based strategies, such as the use of realia to enhance students' comprehension of key skills, during his Gateway Defense with his Clinical Supervisor, Mrs. Amanda Pangrazio; Cooperating teacher, Mr. Chris Evans; and Program Coordinator, Dr. Steven Still. The picture shows how Joshua brought one of his horses into the classroom at Crab Orchard high School during an equine unit to provide his students guided, hands-on practice while receiving immediate feedback.
---
Elementary Education Teacher Candidates Named to Missouri Valley Conference Scholar-Athlete Team
Susie Baranski and Jennifer Jansen, both Elementary Education teacher candidates and SIU softball players were named to the MVC Scholar-Athlete first team. In order to be nominated for the team, students must be starters or important reserves, have played in 75% of a team's games, and have at least a 3.20 GPA (on a 4.0 scale). This was the first time Baranski and the second time Jansen were named to the MVC Scholar-Athlete first team. Both Baranski and Jansen will be completing their student teaching in the fall of 2020 and will graduate with Bachelor of Science degrees in Elemenatry Education degree in December 2020. 
Agricultural Education Teacher Candidate Chosen as Scholarship Recipient
 Cody Suddeth, a teacher candidate from Steward, Illinois is the Area 1 recipient of the 2019 Illinois Retired Teachers Association Area Foundation Scholarship. Suddeth is a junior pursuing Agricultural Education at SIU - Carbondale. The scholarship is awarded to a full-time student who is entering their junior or senior year in college and has been accepted into a Teacher Education Program. In addition, the student must have and maintain at least a 3.0 grade point average on a 4.0 scale.  
---
History Education Student Teacher Published in Student Research Journal
Jacob Staley, History Education Student Teacher received the honor of having an article published in the SIU History Department's student research journal Legacy. Staley's article titled, University of Chicago: A Free Speech Experiment, was one of four student research papers selected for publication in Volume 19. All articles published in Legacy are peer-reviewed and often revised from research papers completed in an SIU history course. Staley's article began as research for a project for HIST 392, and is a study of free speech on college campuses, specifically focusing on a case study of the University of Chicago. About writing the article Staley says, "We were tasked with picking an issue related to SIUC or the state of Illinois as a whole. I decided to go with free speech at the University level because it was something I was really interested in and it has a big relationship with the education system as a whole."
---
Fall 2019 Pinning Ceremony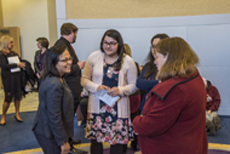 On December 11th, 2019, the Office of Teacher Education and the College of Education and Human Services celebrated the fall 2019 student teachers' transition from candidates to professional educators with a formal Pinning Ceremony. The ceremony was held in Guyon Auditorium in Morris Library. Provost Meera Komarraju, Dean Matthew Keefer, and Trico #176 Superintendent, Larry Lovel were all present to welcome the candidates and their families. During the ceremony, each candidate received an SIU lapel pin from the cooperating teacher or administrator they worked with during their student teaching experience. The ceremony concluded with the student teachers taking the Educator's Oath.
---
 Teacher Candidates Participate in Student Teaching Seminars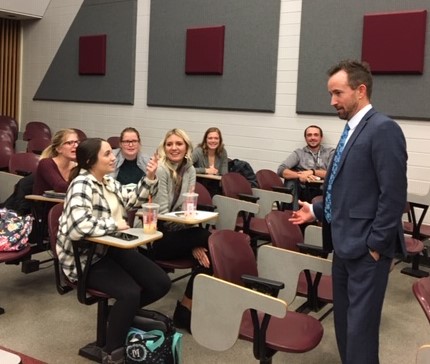 During their student teaching semester teacher candidates follow the same schedule as a full-time classroom teacher. However, they come back to campus once a month to attend Student Teaching Seminars. During the November 13th student teaching seminar, Kyle Miller, from SIU's Wellness Center presented on Stress Management and Self-Care and Nathaniel Wilson, Superintendent of DeSoto Grade School presented on the teacher evaluation process and transitioning to the profession. 
Superintendent of DeSoto Grade School, Nathaniel Wilson speaks with a few student teachers after his presentation on November 13th. 
---
Scaling Educational Pathways in Illinois Summit
Representatives of Southern Illinois Network for Future Teachers attended the Scaling Educational Pathways in Illinois (SEPI) Community of Practice Summit in Bloomington, IL September 17th. The summit focused on the statewide effort to build teacher education pipelines that will address the ongoing teacher shortage in Illinois.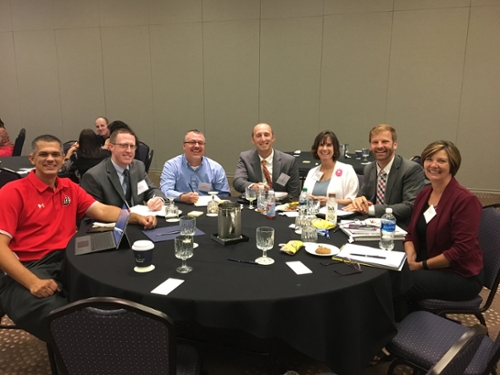 Pictured left to right: Principal Richard Ozmet- Johnston City, Superintendent Matthew Hickam- DuQuoin, Shawn File-DuQuoin, Jamie Kerley-Vienna, Director of Teacher Education Nancy Mundschenk-SIU, Superintendent Joshua Stafford-Vienna, Regional Superintendent Cheryl Graff-ROE #30
At the summit but not pictured Scott Finders- Anna Jonesboro, Ryan Shick-Johnson City.
---
Teacher Candidates host workshop for SIU Day
The Office of Teacher Education got in on the fun of SIU Day by hosting a session for local high school students interested in the teaching profession. Current teacher candidates presented a workshop, "Change Lives...Teach." Teacher Candidates discussed some of the challenges and joys associated with becoming a professional educator and how the TEP at SIU prepared them to enter the field ready to change the lives of their students. 77 students from a variety of high schools throughout Southern Illinois including Carbondale, Herrin, Pope County and Murphysboro participated in the workshop.
---
"Why Teach?" Challenge
In honor of SIU's 150th anniversary and to recognize the university's start as a teaching college, during fall orientation teacher candidates were challenged to answer the question, "Why Teach?" in 150 characters or less. Out of multiple entries, three were chosen at random to win a Visa gift card. The winning entries were: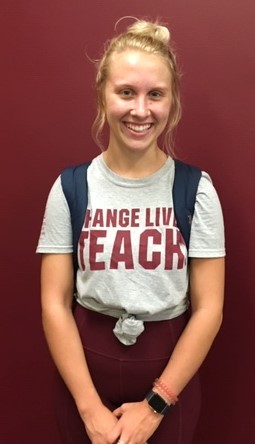 "Teach to inspire. Teach because kindness breeds kindness. Teach because someone didn't. Teach because that is the future of America. Change the world. Teach." Brooklyn Hunsaker, Elementary Education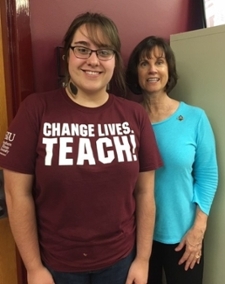 "Teach because to teach is to learn, to learn is to grow, and to grow is to live." Lindsey Sears (pictured with Dr. Nancy Mundschenk-director of TEP), English Education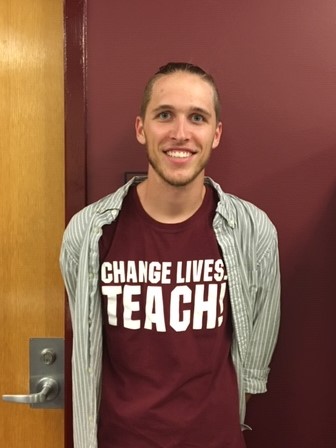 "We teach because we believe in students and their desire to know the truth. We teach because our students will change the world, and we get to watch it first hand." Jacob Staley, History Education
---
2019 Delta Chi Chapter Ceremony
The 2019 Delta Chi Chapter of Kappa Delta Pi initiation ceremony was held in spring 2019 at Morris Library's John C. Guyon Auditorium, welcoming 12 new members into the honorary organization. Kappa Delta Pi, International Honor Society in Education, fosters excellence in education and promotes fellowship among those dedicated to teaching. KDP membership is a lifelong connection to an international network of exceptional educators working in various levels of education – including some of today's top thinkers and practitioners in education – all of whom are dedicated to providing quality education for everyone. The Delta Chapter was installed May 20, 1939, at SIU. The initiates, included those pictured here, pledged to be faithful to the ideals of PDK – fidelity to humanity, science, service and toil.
---
Andrea Storey, TEP student, winner of Annual Lincoln Academy Student Laureate Award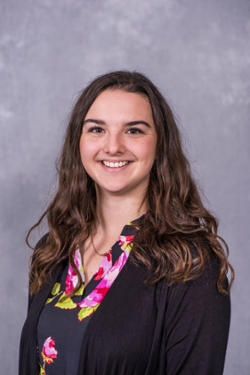 Andrea Storey, a senior, and double major in Spanish Education and Linguistics is the winner of the 44th Annual Lincoln Academy Student Laureate Award for SIU. Storey will return to the Chicagoland area to complete her student teaching semester where she plans to live and work as a bilingual educator after graduation in May 2019. She came to SIU as Chancellor's Scholar and has continued to be an active and engaged member of the university community. We know she will make an outstanding teacher and change the lives of her students! Congratulations Andrea!
---
Ashley Launius, TEP graduate, wins Max Beberman Mathematics Educator Award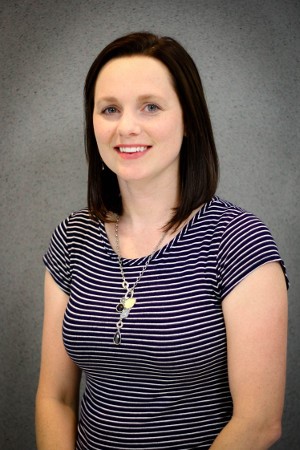 Ashley Launius, a 2008 Mathematics Education graduate and current teacher at Hamilton County High School is the recipient of the 2018 Max Beberman Mathematics Educator Award. The award recognizes excellence in mathematics education and is awarded to a highly motivated and effective educator who has made a significant impact on mathematics education in Illinois. Launius was nominated for the award by SIU faculty member, Jackie Cox.
In addition to working as a full-time teacher at Hamilton County High School, Launius has assumed roles such as developing and providing ACT/SAT/Accuplacer preparation instruction, proctoring MAP testing, developing new math curricula and a STEM course, writing grants, teaching courses at Southeastern Illinois College and providing training as a math facilitator for ROE #21.
She is a dedicated Saluki and has continued her education at SIU. She earned a Master's Degree in Curriculum and Instruction in Mathematics Education in 2010, a Superintendent's endorsement in 2018 and she is on track to complete a Ph. D. in Education Administration in 2019.
Launius was formally recognized at the Illinois Council of Teachers of Mathematics (ICTM) Banquet on October 19, 2018 in Tinley Park. This is the second time Ms. Launius has been honored by the ICTM. She was also the recipient of the ICTM 2009 Promising New Teacher Award. Everyone at the Office of Teacher Education is proud of her accomplishments and her continued success as an educator!
---
Local Chapter of Educators Rising established
The Office of Teacher Education is proud to be partnering with Carbondale Community High School District #165 to establish a local chapter of Educators Rising. Educators Rising is transforming how America develops aspiring teachers. Starting with high school students, we provide passionate young people hands-on teaching experience, sustain their interest in the profession, and help them cultivate the skills they need to be successful educators. The result is a pipeline of accomplished teachers who are positioned to make a lasting difference-not only in the lives of their students, but also in the field of teaching more broadly. Learn more at educatorsrising.org. There is power in teaching.


---
2012 TEP graduate, Jason Seaman hailed as a hero in school shooting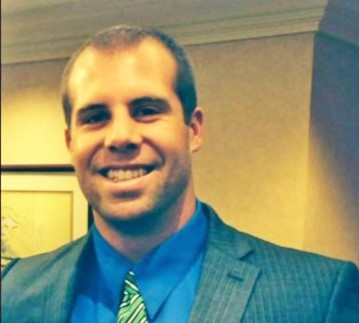 The Office of Teacher Education at SIU has many alumni who have gone on to do extraordinary things both in and out of the classroom. They shape the future. They change lives. Jason Seaman, a 2012 graduate, garnered national attention as a result of his heroic actions during a school shooting in Noblesville, Indiana on May 25. Seaman, a science teacher and coach at Noblesville West Middle School, was shot while directly intervening to stop the shooter. He minimizes his heroic actions and continues to focus on supporting his students, especially the 13-year old who was also injured in the shooting. During a press conference Seaman told reporters, "Her courage and strength at such a young age is nothing short of remarkable."
During his time in the Teacher Education Program, Seaman completed four semesters of clinical practice and preparation at two of our partner schools. He spent two semesters at Murphysboro Middle School, under the supervision of cooperating teacher William Moore and two semesters at Pinckneyville Elementary School, under the supervision of Cathy Decker and Londa Campbell. Upon completion of the program, Seaman earned a Professional Educator's License in elementary education as well as middle school endorsements in general science, Language Arts and Social Science. We are proud Jason Seaman's dedication to his students and quick thinking in a time of extreme stress!  He has proven to be an exemplary Saluki!
---
Adam Cross receives IACTE's 2018 Outstanding Beginning Teacher Award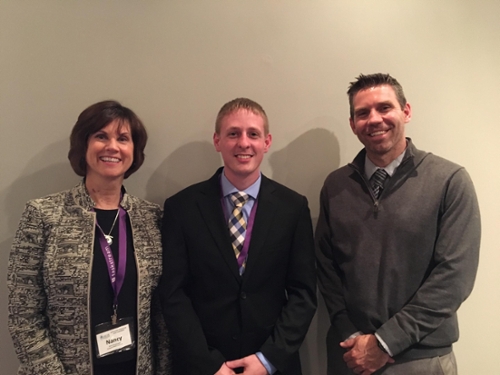 Pictured from left to right: Nancy Mundschenk, Adam Cross, Principal Jarrod Newell
Congratulations to Adam Cross, 2018 recipient of the IACTE Outstanding Beginning Teacher Award!
Adam Cross, a 2017 graduate of the Teacher Education Program at SIU, teaches biology, horticulture and agriculture at Carmi-White County High School. During his first year as a teacher he has built a reputation around his ability to connect with all of the students in his building-even those he doesn't have in class. According to Cross, "...If you don't have relationships with your students, then you don't have them at all, and that is one thing that I pride myself on, is being able to have that connection and relate to them." Nancy Mundschenk, director of the Office of Teacher Education at SIU, agrees, " ...He teaches science and uses evidence-based practices and creative strategies to teach and engage his students for deep learning. But he also knows that connecting with his students, touching their lives, is also critical. His commitment is evident in the classroom and through his support of extra-curricular activities."