Student Teaching
Main Content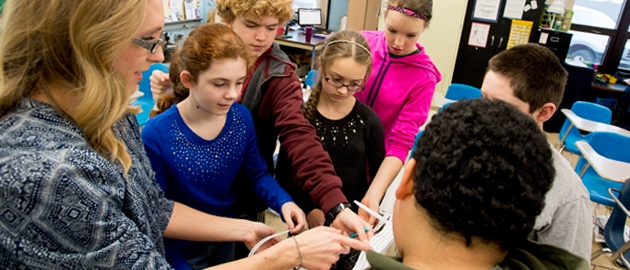 Are you ready to start changing lives?
After completing a series of hands-on clinical experiences through our Teacher Education Program, you will get to practice your chosen career through full-time student teaching.
During your student teaching semester you will be totally immersed in the school community in which you are placed. Under the guidance of experienced mentor teachers and clinical supervisors, you will have the opportunity and support to develop and enhance the knowledge, skills and techniques that will enable you to be the thoughtful, responsive, reflective and esteemed educator your students will fondly remember for years to come. Through the course of this culminating experience in your assigned classroom, you will gradually acquire greater responsibility.
SIU's student teachers make a positive impact on the lives of the students and cooperating teachers they work with. Salukis are ready to teach, and it shows!
Student Teaching Application
Instructions:
Open and save the Student Teaching Application.
Open the PDF, fill it out, and save the completed form.
Send the document to tep@siu.edu as an email attachment.
Contact the Office of Teacher Education at 618/453-2354 or tep@siu.edu if you have questions. We welcome the chance to help!
Salukis Make a Difference
"This student teaching experience has taught me to believe in myself.  I found that I am capable of so much more than I ever realized. I am very thankful I was given the opportunity to pursue my passion for teaching at such an amazing school, with such amazing students and teachers, and especially with such an amazing mentor."
--- Peyton Wolff, spring 2019 elementary education graduate
"Having Josh Carrington (spring 2019 math education graduate) in my class this semester has been an absolute pleasure. He came in the very first day and started teaching. His heart for students and sense of humor have helped him to quickly build relationships with his students. He goes out of his way, often spending lunch, helping those who need a little extra support. Many of his ideas and suggestions have helped to make my classroom run smoother."
--- Carrie Schaber, Trico High School, Math teacher