About Us
Main Content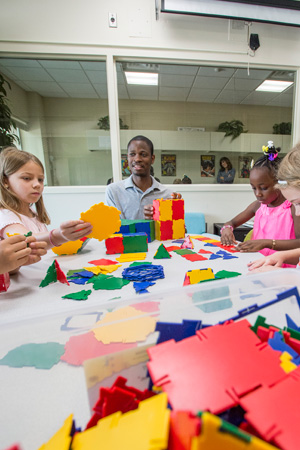 Great teachers don't happen by accident. We began as a teacher's college and we have 150 years of experience helping make memorable teachers who change lives for the better, positively impacting your students' learning.
Practice makes perfect and we're committed to giving you all the preparation you need to be a life-changing teacher.
That pledge is evident in our core values and commitments:
Relationships – You will learn from nationally recognized faculty who teach, conduct research and contribute to the university and the community at large. They and our staff are committed to building meaningful relationships with you, guiding you from admission through graduation. We also help you make valuable connections with the P-12 school students, faculty and staff you come into contact with.
Excellence – We focus on evidence-based practices, leading you to use proven teaching techniques.
Accountability – We set high goals and do all we can to help you reach them, with frequent assessments to help you keep track of your progress.
Collaboration – We work WITH you to chart your path to success, developing shared solutions to help you attain your targeted goals.
Personalized learning – You are important. We listen. And, we give you vital instruction, coaching, support and feedback. Your career success is important to us.
Learn from the best
Coursework within your major of choice takes place across campus. If you want to teach math, you will take math classes in SIU's math department; likewise science, English or whatever area you choose as your major.
You get plenty of classroom practice as well, working alongside highly qualified classroom teachers in our partner schools. These practicing teachers mentor and share their experiences to help you grow, learn and perfect your skills
Teacher Education Programs Nationally Recognized
Our programs are exceptional. Several have been recognized with one of the highest honors in the field of teaching: National Recognition by CAEP. The programs currently holding this distinguished rank include:
Elementary Education
Science – Biology
Social Science- History
Special Education (LBSI)
Principal 
Superintendent
In addition, our music education has been independently accredited by the National Association of Schools of Music while our art education received accreditation from the National Association of Schools of Art and Design.
We're proud of these honors and the outstanding faculty, teaching, teamwork and service that earned them!